First off, have you entered my
twenty-five winner giveaway
yet?!
Okay, now that you have entered...
We are heading home to Utah this year for Christmas..
Can I get a WAHOOO??
We are really excited... just 18 days left until we go home.
Anyways... this leads me to the fact that we won't be here on Christmas day.
I love christmas trees but I just can't convince myself to pay for one
when we are gone for three weeks of the holiday season.
So I purchased a few other things to help our apartment feel the Christmas spirit.
1. Cinnamon Pine Cones
These are essential in my opinion. They act like an air freshener and your apartment smells like christmas!
Dave was skeptical at first but now he wants a bag for our bedroom and one for the car too!
$2.99 for a bag of them at Michaels!
2. Wreath- Inside the front door
Okay, I know this may be weird but I like to put our wreath inside the door.
We don't get very many visitors at our place and I like to look at it.
I love all the fun ideas for wreaths this year but I wanted to use the pine one so it would kind of substitute for our tree.
I think I paid about $7 for all the supplies at Michael's.
3. A bowl of Peppermints
First off, I think a candy bowl is essential in every home. Sometimes you just need a little treat!
yes, we made this bowl at Color Me Mine while we were dating :)
Peppermints are ESSENTIAL to the holiday season. So yummy.
$1.50 for a small bag at Publix.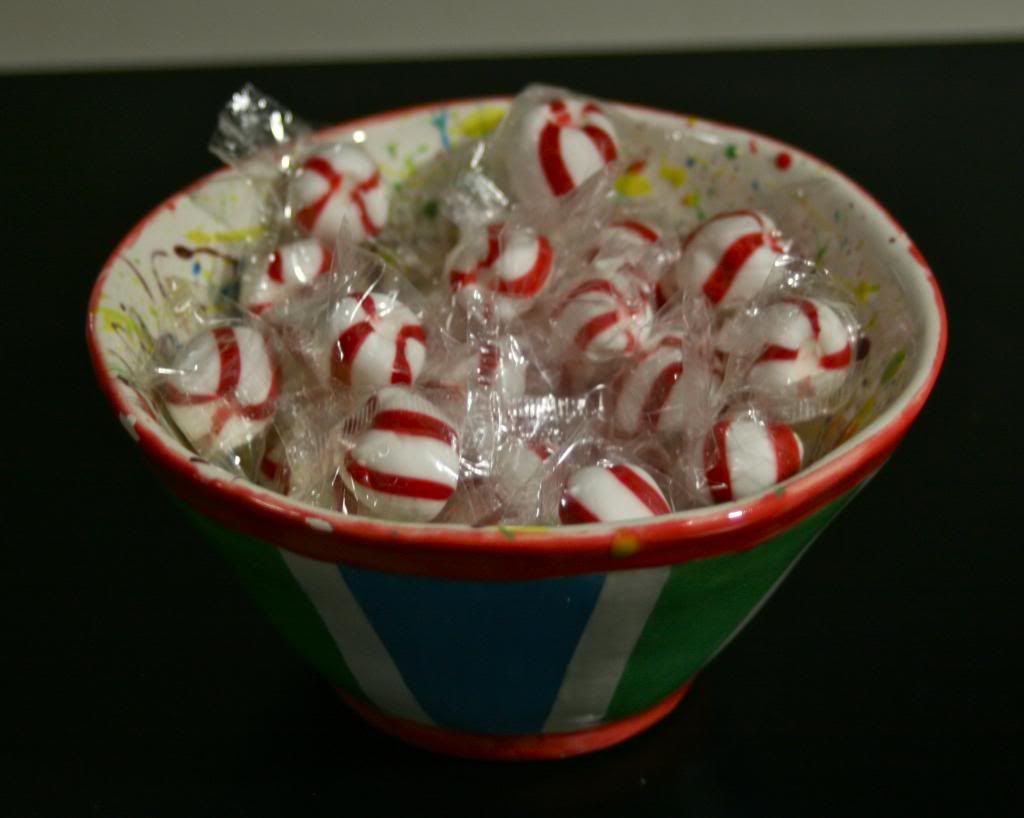 4. Stockings and lights
Since we don't have a tree, I just put lights around our little Tv stand- Don't judge my tape on the side haha
As for the stockings.. I made them with the help of my mom last year. Homemade is so much better than store bought!
They are just burlap and felt, with lace and ribbon addition on mine and buttons and more burlap on his.
I love them so much- I will definitely make similar ones for my kids.
$2.50 for the lights at target & I think I paid $12 for the stocking supplies last year.
5. Snowman Light
Isn't it cute? It is our own little night light.
My mother in law sent it to us to add to the christmas decor this year.
Sometimes I get so stressed with Holiday decor because I want to do everything.
Plus, the blogging world doesn't help because I see so many cute things!!
But I do have to come to the realization that we are still in school
and need to keep decorations to a minimum.
Just remember, you really can add little things that are so simple and inexpensive
that will bring the holiday spirit to your home :)
Don't forget to link up your christmas posts
with the Bloggers for Christmas link up tomorrow!